Gotha
Schloss Friedenstein
99867 Gotha

+49 (0)361 737-5540 Gotha Research Library, Information and Lending


+49 (0)361 8234-0 Stiftung Schloss Friedenstein (Friedenstein Castle Foundation)

(0361) 737-5539 Gotha Research Library

03621 8234-57 Stiftung Schloss Friedenstein (Friedenstein Castle Foundation)
Email:
Homepage: www.uni-erfurt.de/bibliothek/fb/
Homepage: https://www.facebook.com/wissen.sammeln.gotha
Homepage: https://www.flickr.com/photos/wissensammelngotha
Homepage: www.stiftungfriedenstein.de/
Homepage: https://www.facebook.com/schloss.friedenstein.7?fref=ts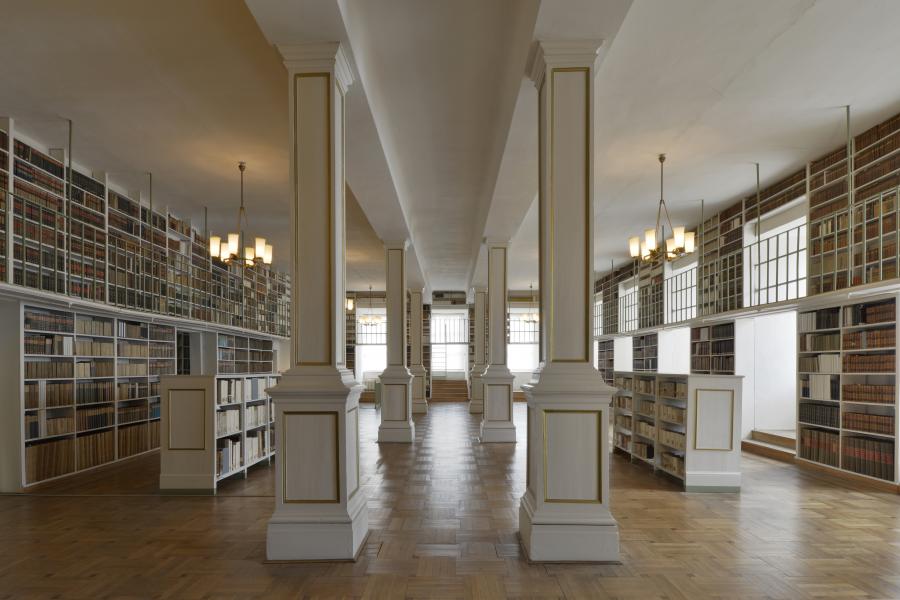 Gotha, the former residence city, has a long history of education, publishing and theatre. This was the place where people such as the reformant Friedrich Myconius, the educator Andreas Reyher, the publisher Justus Perthes and Joseph Meyer as well as the actor Conrad Ekhof worked in. Their activities nurtured the German language in different ways. Libraries and museums at the Friedenstein castle offer the immersion of this vibrant tradition.
Gotha became residential city of the newly created Duchy of Saxe-Coburg and Gotha after the Ernestine Partition in 1640. Duke Ernest I (1601 - 1675) called Ernest the Pious, rebuilt the lands destroyed by the Thirty Years' War and his residential city which was again destroyed in a fire in 1646. On the ruins of Burg Grimmenstein he constructed Friedenstein Castle from 1643 to 1654, the largest early-Baroque palace in Germany. Since 1647 the Ducal Library has been located inside the Castle, which today is the Gotha Research Library of the University of Erfurt.
It is one of the most important historical libraries in Germany. It is considered a reference collection for the history of Central German Protestantism of the 16th to 18th century due to its unique collection of manuscripts, old prints, correspondences, diaries and estates.
Three essential aspects of the history of German language meet in the Gotha Research Library as it offers distinguished handwritten and printed sources on the history of the German language, theatre and literature as well as education in the 16th to 18th century:
Language and Religion (Protestantism): 16th century
About 1,100 of Martin Luther's letters, as originals or as contemporary copies, are at the centre of the collection on the history of Reformation and account for a quarter of all surviving letters of Luther. Additionally, there are more of Luther's writings as well as manuscripts, many of them written in German, which signifies how important he was for the development of this language.
The print manuscript of his translation of the Prophet Jeremiah in 1530 for instance shows that Luther often did not only translate but enriched the language itself by creating unique expressions, poetic imagery and new wordplays. Words such as fewreyffer and lestermaul as well as metaphors like Perlen vor die Säue werfen and ein Buch mit sieben Siegeln can be attributed to him. The Gotha Research Library further preserves a part of the estate of Luther's supporter Georg Spalatin as well as original letters and their contemporary copies of Friedrich Myconius (1490 - 1546), who impacted Protestant culture significantly with his Geschichte der Reformation (history of Reformation) written in German. Spalatin, on the other hand, became one of Thuringia's early chroniclers by writing a chronicle of Saxony in German as an assignment by Elector Frederick III of Saxony, also known as Frederick the Wise.
Language and Education: 17th century
In addition to various textbooks in German as well as the school library of the former Gymnasium Illustre in Gotha, today's Gymnasium Ernestinum - one of the oldest grammar schools in Thuringia - the Gotha Research Library preserves the estates of educational theorists and practitioners: The collections include writings of educators Wolfgang Ratke (1571-1635) and Andreas Reyhmer (1601-1673) who were both very influential educational reformers in Germany. Ratke was a strong advocate for lessons held in German and developed a completely new way of teaching. Reyher became headmaster of the Gotha Gymnasium / Gymanasium Illustre in 1641. He was counsel to Ernest the Pious, Duke of Saxe-Gotha and Saxe-Altenburg, and was assigned to reform the school system in the Duchy of Saxe-Gotha.
The Duchy of Saxe-Gotha sought to implement compulsory education for boys and girls, which had been requested again and again since the early 16th century. Reyher developed curricula, textbooks and guides for teaching Maths, Realia, Music and of course the German language.
The various editions of his Schulmethodus (school methodus) are important pieces of local literature with national impact and only available in the Gotha Research Library.
Language and Art: 18th century
A Baroque theatre with the oldest original stage machinery (1681) can be found inside Friedenstein Castle: The Ekhof Theatre was named after the father of German stagecraft, Conrad Ekhof (1720-1778), who arrived at Gotha's court with the Seylersche Theatre Company in 1774. After its founder Abel Seyler had left Gotha, Duke Ernst II and Ekhof founded the first German court theatre offering actors secure employment contracts. Up to his death three years later, Ekhof contributed to German theatre as stage director of Gotha and the residential town became the centre of German theatre. To this day the original stage machinery of the Ekhof Theatre is used to show how Ekhof and his cast made language come alive on this stage.
The Gotha Research Library houses a significant collection of literature on German theatre, including a part of Conrad Ekhof's private collection, such as his translation of Le Philosophe Marié Ou Le Mari Honteux De L'Être by Néricault Destouches into German.
More information about the Ekhof Theatre online at:
http://www.stiftungfriedenstein.de/ekhof-theater
---
Opening hours:
Gotha Research Library
Monday to Friday
9:00 am - 8:00 pm
Saturdays
9:00 am - 1:00 pm
Service hours: Lending and the Special Reading Room
Monday to Friday
9:00 am - 8:00 pm
Free of charge tours of the Gotha Research Library display rooms can be attended from April to September on Wednesdays at 3 pm.
Participants meet at the lending library counter.
Museums in Castle Fiedenstein
(Castle Museum, Museum of History, Museum of Nature, Ekhof Theatre)
Tuesday to Sunday
(closed on Mondays, open on public holidays)
10:00 am - 5:00 pm
(November to March: 10:00 am - 4 pm)

Ducal Museum
Monday to Sunday
10:00 am - 5:00 pm
(November to March: 10:00 am - 4 pm)